1. The 70's
As seen at: Altuzarra, Saint Laurent, Emilio Pucci
It's not summer yet but fringing and camel suede a-line skirts are almost already so yesterday to me. There are some cute pieces that have come out of this (particularly this coat! and this jacket!) but as I tweeted the other day, the trend is a festival goer's dream, my own nightmare.
It is all about coloured suede, fringing, flared trousers and embellishment. The way I would wear this trend is to juxtapose suede with leather or with stripes, the way it was styled at Altuzarra below. That way, you get to be on trend without looking like you belong at Coachella even after it is over.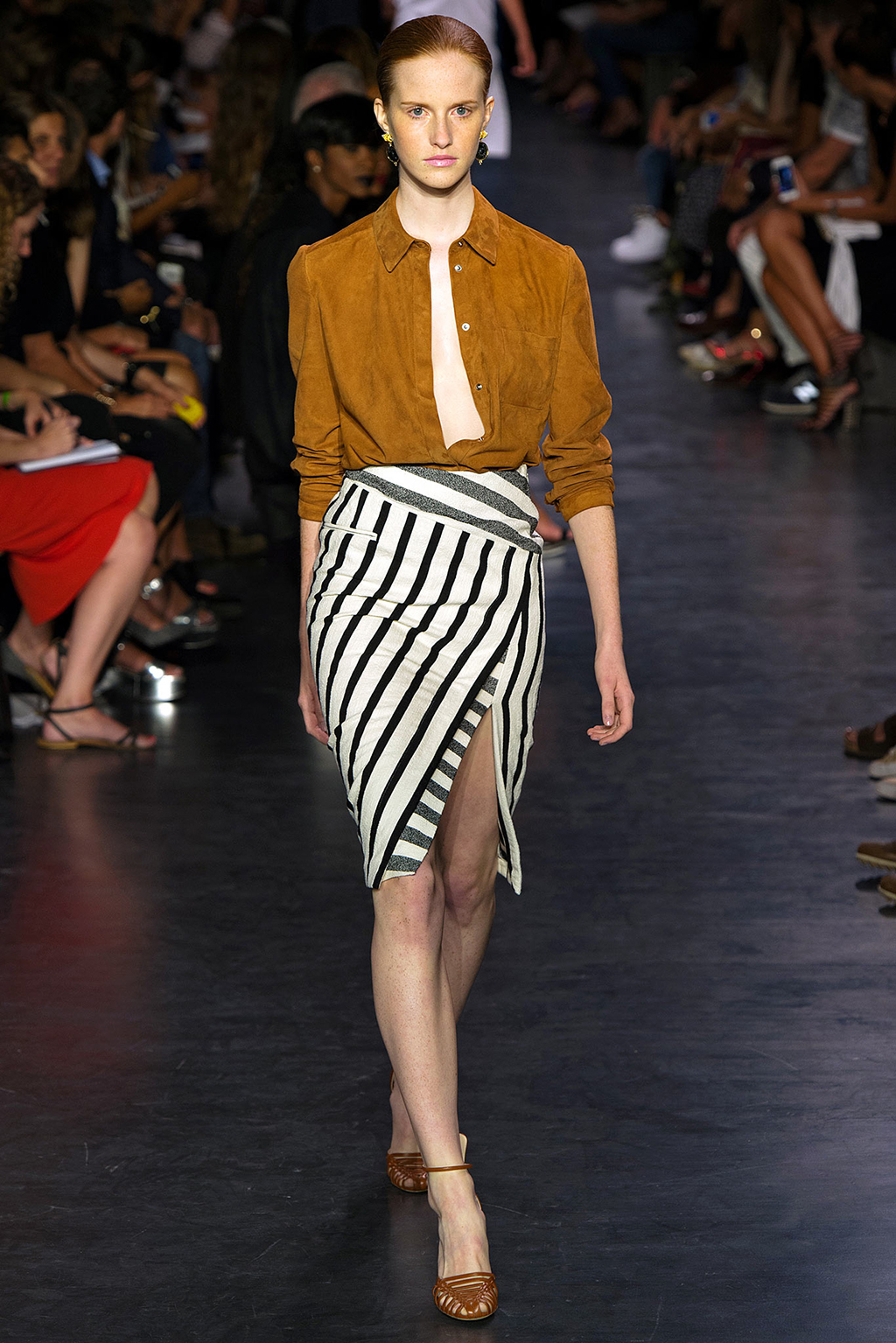 I really like these and would buy them to mix in with other pieces that are not of this trend:

Mango Jacket
This jacket is stunning. Imagine it with a black leather mini skirt or even distressed denim?
[show_lookbook_widget id="209695"]
Saint Laurent Bag- at Neiman Marcus and Ssense
I've had my eye on this bag in this colour for the longest time. I absolutely love it and it actually is a classic. Imagine it worn with that jacket above? Wow.
Scroll through to shop the trend:

2. Gingham
As seen at: Oscar De La Renta, Altuzarra, Karen Walker
Trends like gingham are all about the execution. You could just as easily look frumpy as you could look majorly sophisticated like Rihanna does in Altuzarra below.
Scroll through to shop the trend:
3. Gladiators
As seen at: Miu Miu, Rodarte, Chloé
I've been rocking with gladiators every single spring/summer for the past four years- see here, here and here. It's one of those pieces that has all the potential in the world to be tacky- but you just have to completely own your look and wear it with the most confidence.
The way I wore it below takes an edge of sexiness off it by simmering it down with a super sweet white dress. They still show that I mean business though- just the way I like it.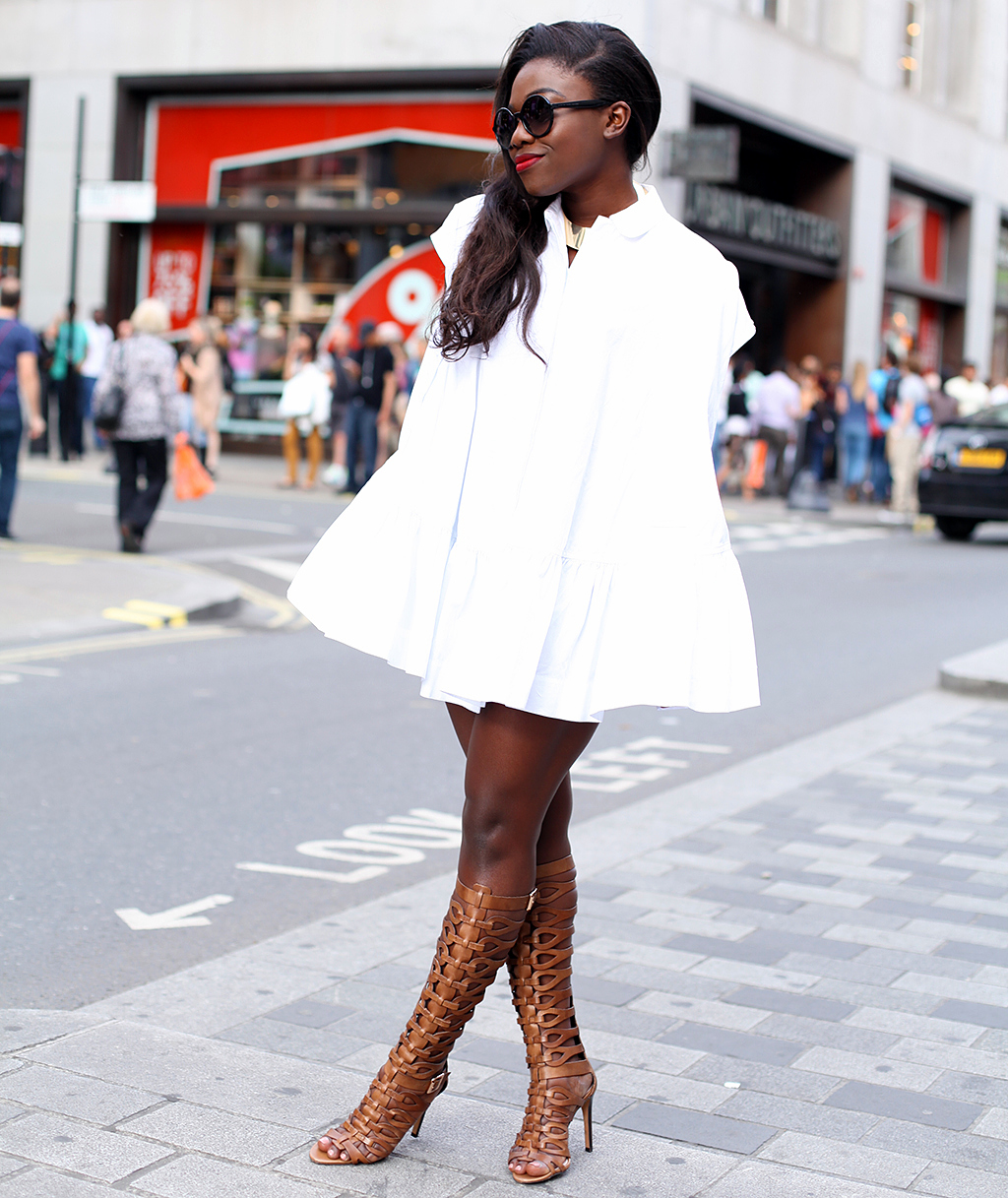 [show_lookbook_widget id="209806"]
[show_lookbook_widget id="209811"]
La Redoute Leopard Print Sandals
Leopard print will always be effective in adding more fun and personality to your outfit. Imagine these with a mini denim dress or jumpsuit, red lipstick and oversized sunglasses? Bomb.
Scroll through to shop the trend:
4. High Boots- open toe
As seen at: DSquared2 and Givenchy
This follows right on from the gladiators. You already know that I love my thigh high boots. I wore them all winter, see here. They are adapted to spring/summer with an open toe update.
[show_lookbook_widget id="209826"]
Oh wow! These are super ghetto fabulous and would be a great styling challenge. I can't say it's one that I'm up for but they would be very interesting to wear.
[show_lookbook_widget id="209831"]
Alejandro Ingelmo Boots- an extra 40% off at checkout
Scroll through to shop the trend:
5. High Neckline
As seen at: Christian Dior, Dolce & Gabbana, Hermés
The best thing about this look is all the sophistication that it exudes. You can wear a very mini dress with a high neck lace or silk top under, or very short shorts and still look elegant. I really love this one.
[show_lookbook_widget id="209841"]
Scroll through to shop the trend:
6. Utilitarian- Military Khaki

As seen at: Acne Studios, Chanel, Sacaai
This is probably my favourite trend this season and the one that is going to carry on the most into autumn/winter. I absolutely love the toughness of it and anything that comes in khaki leather is an absolute winner for me.
[show_lookbook_widget id="209866"]
Scroll through to shop the trend:
This post has been the longest time coming, I'm sorry it's taken so long. I had to split it into two parts because it took forever to put together and got too long. I hope that it helps you streamline your wardrobe this season. Please remember that I don't think it necessary to be trendy to have great style. I think it's the best when you know what you like to wear and you incorporate what trends tickle your fancy.
Part 2 of Top Trends for Spring/Summer 2015 will be published soon. In the meantime, let's discuss in the comments below what your favourite and least favourite trends are this season, from those listed above!
Follow me on twitter, for my unfiltered thoughts!