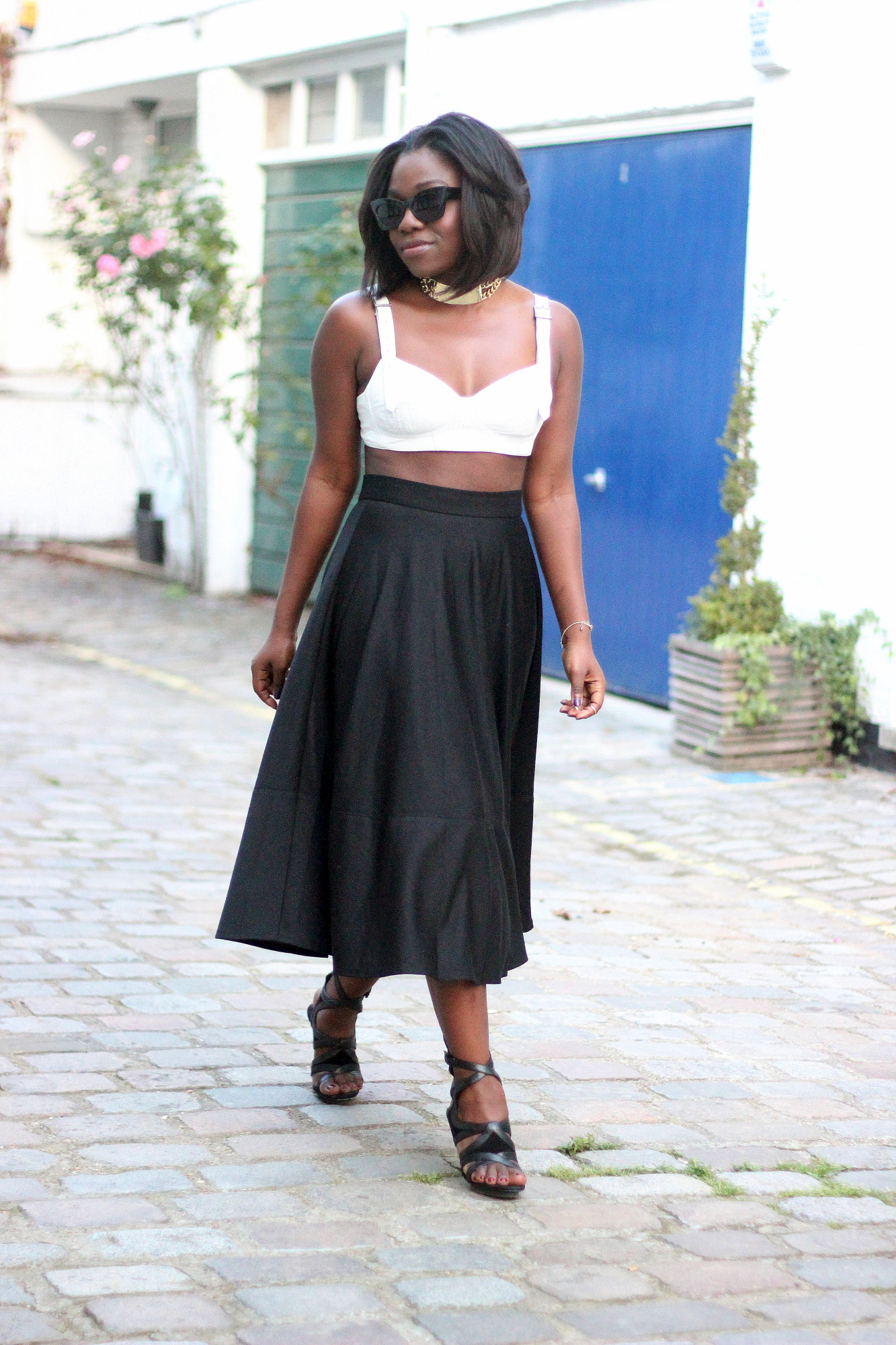 ASOS Leather Bra (similar), ASOS Midi Skirt, Balenciaga heels (substitute), New Look Choker (similar)
Let's talk about BOOBS. Good Fashion VS. Boobs. Are they sometimes mutually exclusive or can we always have both?
I grew up cursing my A cups (which eventually developed into B cups) and scheming about how I'd ask my mum for a boob job for my 16th birthday. My bra collection was limited exclusively to the most severe of push-up bras. I wanted ALL the help I could get. Two years later, I made a complete U-turn. If I could drop down a cup size to become an A cup, I would. I replaced all my wonder bras with barely-there flimsy pieces of cotton with no padding whatsoever and oftentimes, not even wearing a bra at all. I feel that you can get away with wearing more stylish clothing without boobs. My mum always used to tell me: The grass is not always greener on the other side. You just have to water your own grass. So maybe this is just me watering my own grass?
It's been a long time since I heard someone say that a dress didn't look good on a girl because she didn't have the boobs to fill it in. I used to hear this all the time before. What has changed- the way that stylish clothes are made or my perception of the way that clothes should fit?
With the arrival of recent trends (low cut tops, crop tops, bra tops, fully unbuttoned shirts, silk camisoles), more revealing silhouettes are being embraced but they don't look vulgar. However, if I was wearing this leather bra with D cups, the dynamics of the outfit would change completely.
That being said, I have a friend who regards her G cups as her best asset. She protects them like she would her new-born twins. So, what do you say. Are you happy with your A cups or G cups as the case may be or is the grass greener on the other side? Plus, what do you think about the fit of clothes in relation to the size of boobs?