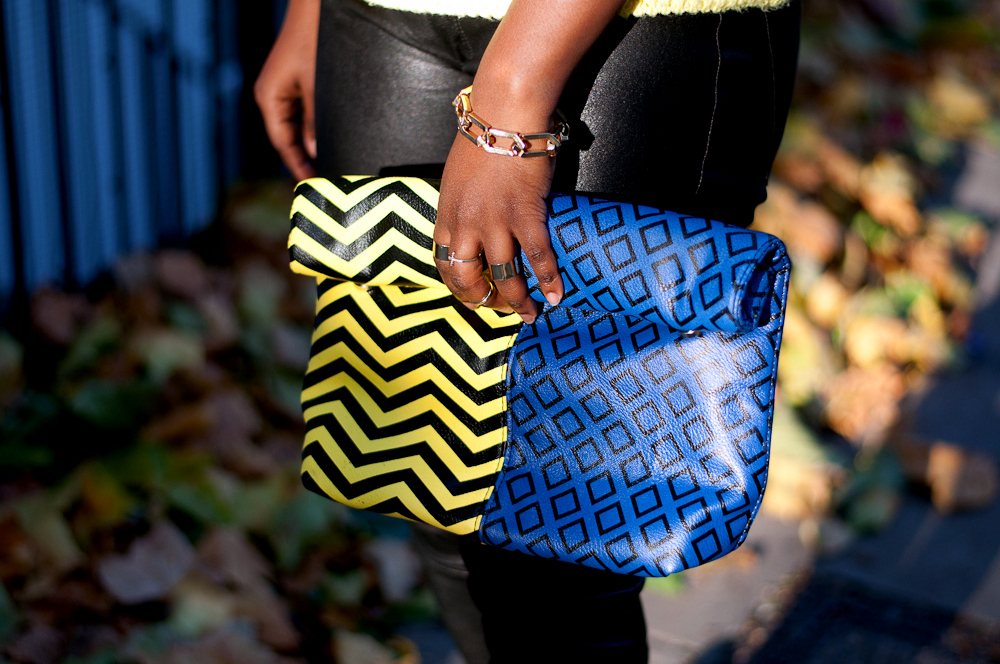 Zara Silk Shirt, Topshop Jumper, DL1961 Leather Jeans, ASOS Clutch, ASOS Rings, Sigerson Morrisson Heels
Lord knows that sometimes our winter wardrobes need an injection of colour! I find winter to be the most depressing season of all- there is nothing appealing about sunset at 4pm or earlier, the feeling of your fingers about to fall off, feeling like the world is against you whilst struggling your way through icy cold winds. Towards the end of the summer, I see so many bloggers complain about the heat and how they can't wait for Fall and I can't understand it except if you live somewhere that's always hot and you want to try a bit of Fall fashion- why wish the good weather away?! Fall is cool as it allows for hot and cold outfits- you know, shorts, tee and trench coat. But, it departs as quickly as it arrives and leaves in it's trail six awful months. To top it all off, I don't care for snow or a white winter.
Okay, that's enough negativity for a Friday morning! A good way to fight off the winter feeling is to wear colour every once in a while, abandoning the greys and blacks. This time, I mimicked summer vibes by looking like a bumble bee. It's all happy on the outside whilst I'm dying on the inside. And they say it's what's on the inside that counts? Pshhh...
Have you started thinking about your Christmas shopping yet? I've put together a Christmas Room which will constantly be updated (access it in the top menu of the blog) with various gift suggestions at every price point. Start wrapping up your presents to go under the tree and filling those stockings! No need to run around like a headless turkey this time around (Yup,my jokes suck. Sue me).