For Her Over £100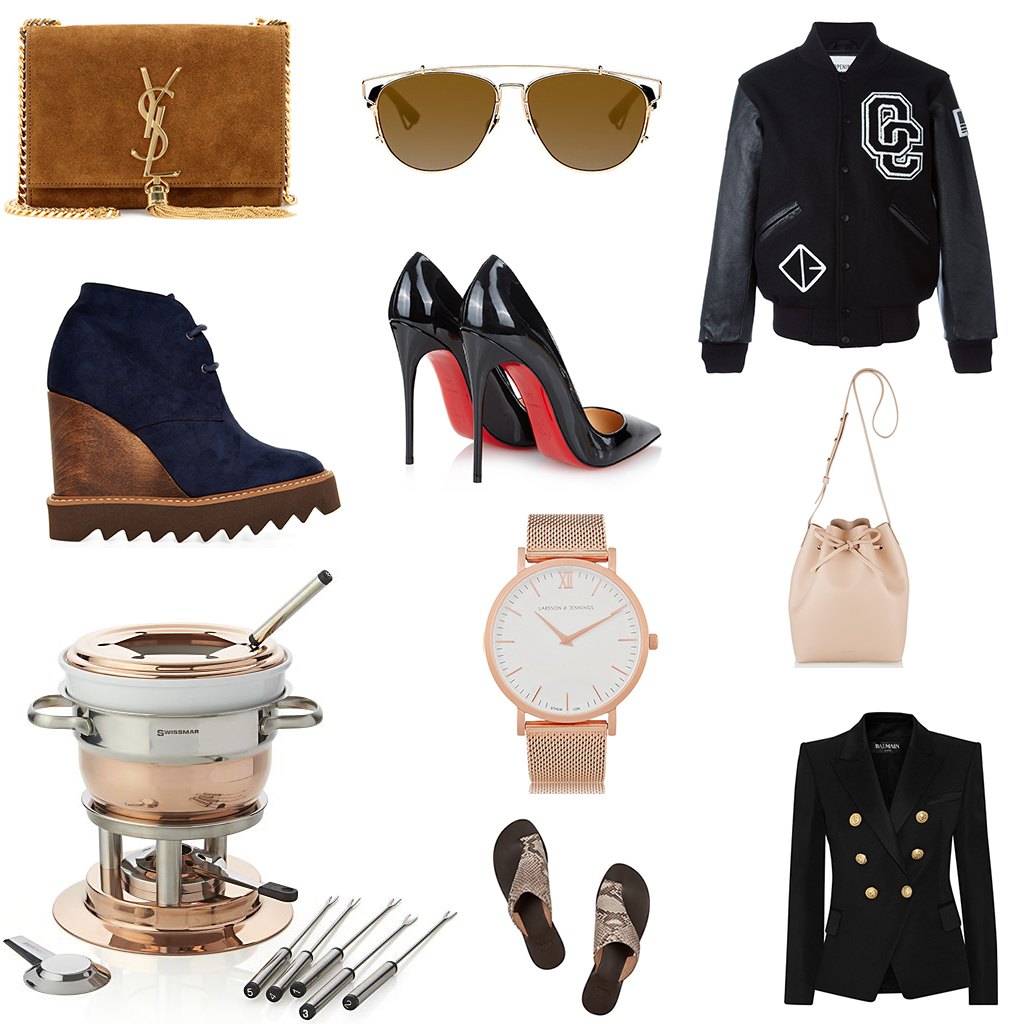 Saint Laurent Bag, Dior Sunglasses, Opening Ceremony Jacket (10% off with BF2015), Stella Mccartney Shoes (30% off with , Louboutin Heels, Mansur Gavriel Bag, Swissmar Copper Fondue Set, Larsson & Jennings Watch, ATP Atelier Flats, Balmain Jacket
For Her Under £100
Hardcover Designer Books, Nike Air Force 1's, Calvin Klein Bra Top and Briefs (20% off with CYBER), Laura Mercier Lipgloss, Topshop Jeans, River Island Boots, Office Heels (20% off with SNOW), Ernesto Scented Candle, Nutribullet (20% off with SELFCCE)
For Him Over £100
Bottega Venetta Shoes, Buscemi Belt (30% off with BF62LE) , Beats Headphones (20% off with SELFCCE), Tom Ford Perfume, Buscemi Trainers (30% off with BF62LE), Bottega Veneta Wallet, Givenchy Cufflinks (30% off with BF62LE), Common Projects Sneakers, Common Projects Slip-Ons, Ray-Ban Sunglasses (20% off with CYBER), Nespresso (20% off with SELFCCE)
For Him Under £100
Topman Shirt, Ugg Slippers, ASOS Jumper (20% off with CYBER), Converse Sneakers, Topman Sweatshirt, Nike Trainers (20% off with CYBER), ASOS Hip Flask (20% off with CYBER), Calvin Klein Underwear (20% off with CYBER), ASOS Boots (20% off with CYBER)
Is it just me that gets SO stressed out about Christmas shopping? Memories of two Christmases ago when I spent a lot of time picking out what I thought were gorgeous shoes for my little sister's Christmas present, and the look of disappointment on her face when she unwrapped them, still haunt me.
So here's hoping that my gift guides make your Christmas shopping a little easier. Don't forget to reference this post for all the best Cyber Weekend discounts and deals. It all ends tomorrow!
Keep up to date with my constantly updated Christmas Shop.
Facebook | Twitter | Pinterest | Instagram | Tumblr | Youtube
Follow me on twitter, and ask me anything.